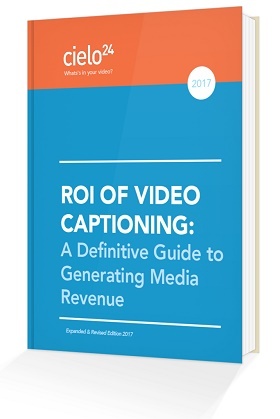 Leveraging your video intelligence to grow your business is no longer an option.
Researchers have reported compelling data in favor of employing better quality metadata and captioning for your video. In early 2016 Facebook reported social video that included captions experienced a 12% increased CTR.
Cross-Industry surveys reported an 80% increase in video watch-to-completion rates with caption and advanced metadata usage, leading to monumental gains in SEO rankings and engagement.
The ROI of Video Captioning eBook is a definitive guide to generating media revenue. This book will discuss:
Strategies to increase video views

Methods to master silent social video autoplay

Techniques to inspire social media engagement

Practical application of advanced SEO tactics
Complete the form on this page to download the ROI of Video Captioning: A Definitive Guide to Generating Media Revenue eBook today.