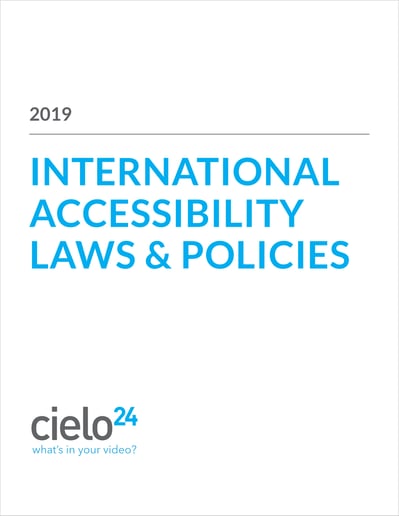 Get the updated web accessibility requirements for Australia, Canada, New Zealand, the UK and the European Union.
The 2019 edition of our International Accessibility Laws and Policies eBook dives into recent changes to global website accessibility issues and legislation. These updates reflect the ongoing world-wide efforts to ensure equal access to online information & technology for people with disabilities.
In this updated 2019 edition, you will find information on the five territories discussed above, as well as:
The Website Accessibility Implications of GDPR –

NEW!

The 17 New Success Criteria of WCAG 2.1 –

NEW!

The United Nations' CRPD
Additional Free Accessibility Resources
---
In an increasingly digital era, the need for inclusive technology that meets regulatory standards is paramount to creating new growth opportunities.
cielo24 proudly works with companies and organizations across the globe on video data solutions that comply with state, federal and international requirements for digital content accessibility.
We also offer video data solutions that help universities manage and deliver thousands of hours of online classroom content that meet ADA compliance requirements for education, create growth opportunities for online learning, and improve student performance.