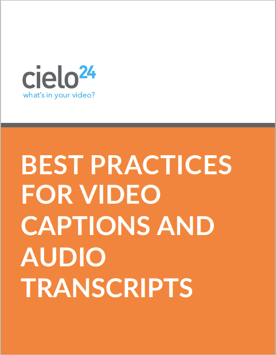 Creating an exciting and diverse captioning and transcription program is a premier way to expand your market reach.
The world is a very digital space, and the opportunities to attract new customers through audio and video are endless.
This eBook takes you through the captioning and transcription environment; from designing a captioning and transcription strategy, to best practices for using captions and transcripts, to a quick toolkit for creating high quality captioned video or audio content.
What's Inside?
Inside the pages of the "Best Practices for Video Captions and Audio Transcripts" eBook you will discover:
3 steps to establishing a captioning and transcription process
Best practices for using video captions and audio transcripts
The role of overall website design in video success
The impact of transcripts on SEO
How to use video for stronger employee results
4 must haves of audio transcription and video captions
and more!
Complete the form on this page to download the Best Practices for Video Captions and Audio Transcripts eBook today.
---
In an increasingly digital era, the need for inclusive technology that meets regulatory standards is paramount to creating new growth opportunities.
cielo24 proudly works with companies and organizations across the globe on video data solutions that comply with state, federal and international requirements for digital content accessibility.
We also offer video data solutions that help universities manage and deliver thousands of hours of online classroom content that meet ADA compliance requirements for education, create growth opportunities for online learning, and improve student performance.