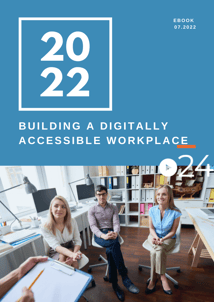 The workplace has evolved significantly since 2020 as many companies and organizations have shifted online to safely complete work. The introduction of hybrid and remote work has seen similar and, in some cases, increased productivity from employees.
Digital accessibility training is an essential part of ensuring a company or organization is fully compliant with relevant accessibility standards including WCAG and the ADA.
Without proper digital accessibility, some employees may be heavily disadvantaged when working from home. This can lead to issues with performance that can easily be avoided with adequate digital accessibility.
This resource will dive into how organizations can properly and effectively train employees in digital accessibility as well as prepare workplaces to be compliant with relevant digital accessibility standards.
The Hybrid Workplace: Then and Now
WCAG Training Across Your Organization
5 Steps to a Digitally Accessible Workplace
Much more…
Complete the form on this page to download the Building a Digitally Accessible Workplace eBook today.