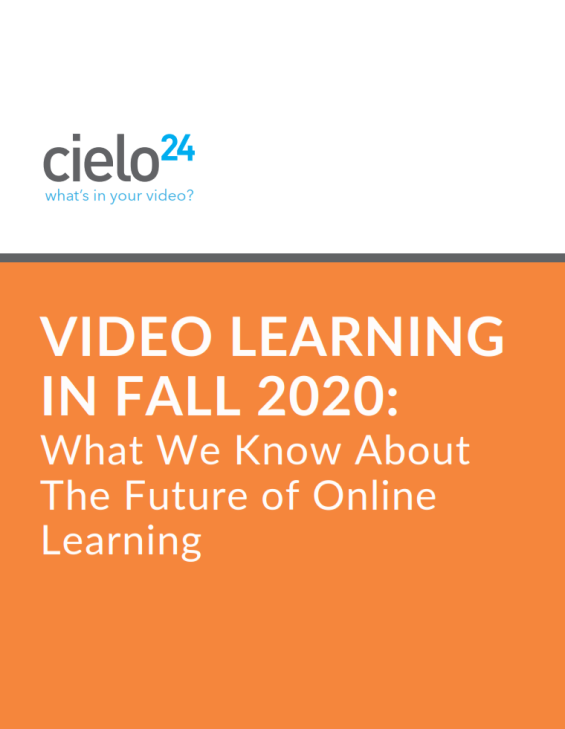 Video Learning in Fall 2020 is a relevant topic for obvious reasons. 2020 has been a year of massive challenges and COVID-19 has impacted us all personally and professionally. Not only as a country, but as an entire world.
Educators are facing an uphill battle as they prepare for a safe and seamless fall 2020 education experience. Whether a school decides to have in-person instruction or not, numerous decisions need to be made with everyone's safety in mind as well as continuing to provide quality education.
cielo24 has been supporting colleges and universities with captioning and transcripts for accessibility since 2012
In our eBook "Video Learning in Fall 2020: What We Know About the Future of Online Learning" we help educators understand how these options might empower your teaching.
What's Inside?
Insights from Cindy Potteiger, Director of Online Learning and Academic Technology at Cuyahoga Community College
A student perspective via Natalie Endres, an Operations and Marketing intern at cielo24 who also attends the University of California at Santa Barbara
The thoughts of cielo24's Chief Executive Officer, Shanna Johnson, and Joseph De Rocco, Director, Strategic Accounts
Complete the form to download your free eBook today.
---
In an increasingly digital era, the need for inclusive technology that meets regulatory standards is paramount to creating new growth opportunities.
cielo24 proudly works with companies and organizations across the globe on video data solutions that comply with state, federal and international requirements for digital content accessibility.
We also offer video data solutions that help universities manage and deliver thousands of hours of online classroom content that meet ADA compliance requirements for education, create growth opportunities for online learning, and improve student performance.