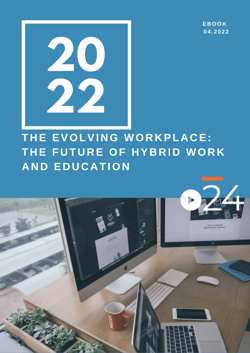 The workplace was shocked by the COVID-19 pandemic in 2020. Suddenly, going into the office was no longer a viable option for both companies and employees. Likewise, students and professors experienced the sudden transition to online learning in a matter of weeks.

Nevertheless, the accelerated evolution of remote and hybrid work has given rise to significant discussions about the effectiveness and increase in productivity that it has brought about.
This resource will dive into remote and hybrid work. It will delve into the future of remote and hybrid work and education as well as the space it has carved out due to the increases in freedom, productivity, and efficiency that have been seen.
Submit the form to download your copy of The Evolving Workplace: The Future of Hybrid Work and Education eBook today.
---
This eBook covers:
The Hybrid Workplace: Then and Now
The Importance of Training Videos
Reasons Hybrid Work is Here to Stay
Hybrid Education: Students, Professors, and Classes
And much more…
Download Now >>