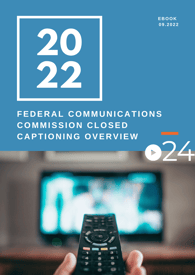 The FCC focuses on two main channels of video content consumption: television and online content. It requires content creators and distributors to caption any and all videos that will air on television.
These requirements present a challenge for many video content creators and distributors. However, any organization can become compliant with the FCC's guidelines by prioritizing accessibility in its content production process.
This is especially important for viewers who are deaf or hard-of-hearing and may not be able to fully access content on television or on the internet.
This eBook covers:
What is FCC Closed Captioning?
FCC Closed Captioning Requirements
And More…
Complete the form on this page to receive your copy of the Federal Communications Commission Closed Captioning Overview eBook.
Download Now >>