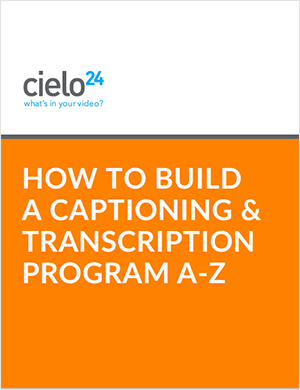 When it comes to your video captioning and transcription ecosystem, many factors contribute to how an organization begins the journey.
What's Inside?
In this eBook "How to Build a Captioning & Transcription Program A-Z" you will discover:
Components of a successful captioning and transcription program
3 growth stages that your program will go through
Important triggers that signal its time to move between each stage
A map for creating a successful captioning and transcription program
Why you may be interested in this eBook?
As the educational environment continues to evolve due to COVID-19 and embrace new technologies, the need becomes especially critical for institutions to prioritize accessibility. Adding captions and transcripts to your organizational video can be done easily, responsibly, and intentionally.
Every organization that we work with begins their captioning and transcription program at a different stage and most importantly, with unique needs. There is always an opportunity to get started and responsibly grow your program. This eBook, How To Build A Captioning & Transcription Program A-Z, shares the basic building blocks to get you started!
Where inclusive technology meets regulations for improved student experiences.
Universities that adopt remote education capabilities have become more flexible in their ability to meet online educational needs through technology – keeping their organizations operating smoothly regardless of physical location. Providing online learning environments also enables institutions to protect faculty, staff, and students through the coronavirus pandemic.
Complete the form to download your free eBook today.
---
In an increasingly digital era, the need for inclusive technology that meets regulatory standards is paramount to creating new growth opportunities.
cielo24 proudly works with companies and organizations across the globe on video data solutions that comply with state, federal and international requirements for digital content accessibility.
We also offer video data solutions that help universities manage and deliver thousands of hours of online classroom content that meet ADA compliance requirements for education, create growth opportunities for online learning, and improve student performance.