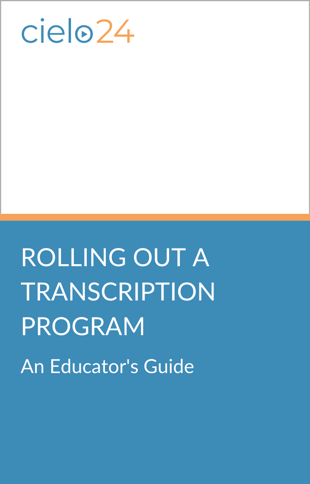 Online learning is a hot topic for obvious reasons this year. We have all been tasked with massive challenges as COVID-19 continues to impact us all personally and professionally. Not only as a country but as an entire world.
As COVID-19 quickly transformed the higher education landscape, cielo24 partnered with two accessibility-driven campuses, to provide a campus-wide solution for captioning course video and audio content.
This eBook includes campus feedback, tips, and resources for establishing a comprehensive captioning and transcription program that improves learning outcomes for the entire student body.
---
Training resources for educators, faculty, and students
Accessible technologies implementation
Guide for securing accessibility funding and utilizing grants
Detailed benefits of media transcription
Our 99% captioning compliance checklist
Complete the form on this page to download the Rolling Out a Transcription Program: An Educator's Guide eBook today.