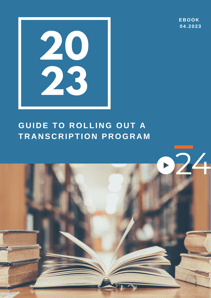 Even as students have mostly returned to physical classrooms, video and online learning are still essential components of higher education. This will likely be the case in the future as resources and materials are accessed online and through mediums other than directly from a professor in a classroom.

This resource will assist you and your institution in developing and using a transcription program for your students' and professors' benefit.
Get your copy of the Rolling Out a Transcription Program: An Educator's Guide eBook today.
---
What's Inside?
The Importance of Staff Training
Accessibility Technology for People with Impairments
Champions of Advocacy
The Captioning and Transcription Ecosystem
Download Now >>