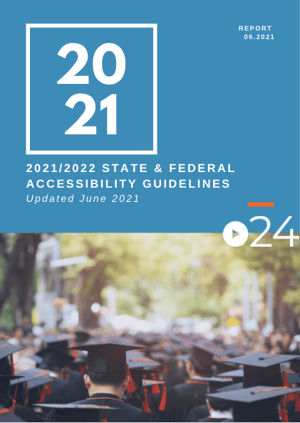 As accessibility requirements constantly evolve, we strive to keep you updated and informed.

Both state and federal governments have developed their own number of laws to keep websites and digital content accessible to all. These requirements apply to government agencies, universities, and many for-profit businesses, and can differ from state to state.

The 2021/2022 State & Federal Accessibility Guidelines, updated June 2021 provides an overview to help you to make online information and programming services compliant with both Federal and State laws, policies, standards, and guidelines.
---
Download our free and comprehensive 90+ page eBook to learn about:
All 50 States' Updated Legal Requirements and Policies
ADA, IDEA, Section 504 and 508 of the Rehabilitation Act
Web Content Accessibility Guidelines (WCAG), including new proposed 2.2 standards
Public and Private University Law FAQ
Additional Accessibility Resources