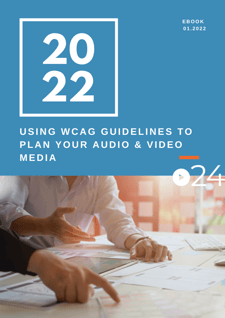 The WCAG 3.0 guidelines differ from their predecessor (WCAG 2.0) in their conformance levels and testing requirements.
Though these guidelines are only proposed as of now, it is essential that organizations are well-versed and prepared for these changes as they become official.
This resource will take you through the essential components of the most recent WCAG guidelines as they affect online media. Overall it will help you plan your content for compliance as well as setting your media up for success with a larger audience.
Complete the form on this page to download the Using WCAG Guidelines To Plan Your Audio & Video Media eBook today.
---
What's Inside?
Understanding User Needs and Experiences
Pertinent Criteria and Testing of WCAG 3.0 Guidelines
Captioning and Best Solutions According to Role
How to Implement a Robust Captioning and Transcription Strategy
WCAG 3.0 Quality Conformance
Download Now >>