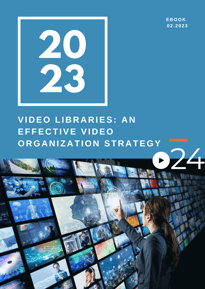 Whether you are an educational institution or a Fortune 500 company, utilizing video libraries can considerably improve your content management strategy.

Not only are you able to keep tabs on all of your content, but you can also capture critical data that informs you on each video's performance with audiences. This ranges from views, when and where audiences are watching your content, and even information on your video's SEO ranking.
Video Libraries can be greatly beneficial as it allows you to create a central location for all of your video content, gives insights into your videos' performance, as well as boost the SEO of your content.
Submit the form to download your copy of the Video Libraries: An Effective Video Organization Strategy eBook today.
---
What's Inside?
Video Libraries and Searchable Video Content
Benefits of Using a Video Library System
Video Intelligence: Smart Video
Video Storage
Accessibility For Your Video Library
Download Now >>